Main content starts here, tab to start navigating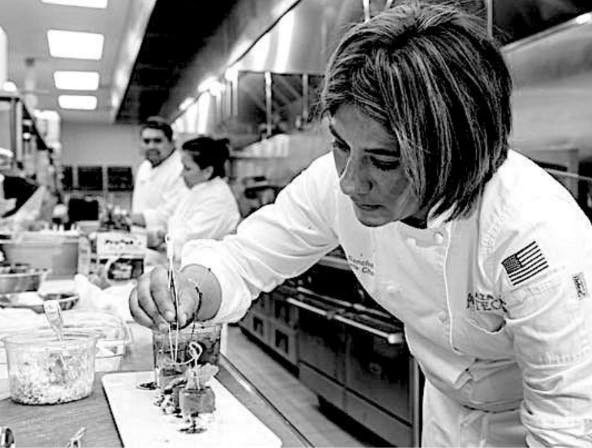 Chef Yanni
Is a pioneer in Mexican-French cuisine in Chicago with the inception of her restaurant Sabor Saveur in 2009, showcasing her many talents that ultimately earned her 2 Michelin Bib Gourmand awards. She has been the visionary chef behind many restaurants around the US including Cine, Mas and most recently Bar Takito, completely re-imagining the magic of Mexican cuisine. Born in Toluca, Mexico, this young lover of aromas and a variety of flavors of her homeland, she has gained vast experience in haute cuisine in prestigious venues such as the Ritz Carlton in Paris and The Mayan Palace in Cancun and Acapulco. Yanni completed her training as a chef at the "Ecole de Boulangerie et Pâtisserie de Paris, France.
In addition to her many accolades, Chef Yanni was recently chosen as a winner of the "Latino 40 Under 40" prestigious award by Negocios Now as well as the Golden Rasher award winner of Bacon Fest 2018.
When one has the pleasure to see the Chef cooking, Yanni, as her friends and clients call her, the first surprise is the pleasure she has with onion, butter and garlic; not because they are basic elements of the kitchen, but the scent that awakens the senses, as she would say.
Chef Yanni has a belief that the real secret of great cooking, regardless of training and experience is in the ritual. Like putting on "the Filipino, immaculate as a sign of respect" for the culinary art, you as a chef, one who takes the risk, it's believing in the possibility that exists in the outcome of each dish. Layering the ingredients in the pots, pans and ultimately completed into dishes"– Yannitzin Sanchez